VERBENA OF PROVENCE Shower Gel
VERBENA OF PROVENCE Shower Gel
(1 avis)
Shower Gel - Softness and freshness for your skin
Succumb to the freshness of the VERVEINE DE PROVENCE 500ml shower gel by Cogérie. Its light and revitalizing fragrance transports you to the heart of Provence, offering a unique and soothing sensory experience for your skin.
Product Features:
- VERBENA DE PROVENCE shower gel in 500ml and 1L format

- Fresh and revitalizing scent of verbena

- Gently cleanses and hydrates the skin

- Suitable for all skin types, including sensitive skin

- Free of parabens, sulfates and artificial colors

- Made in France with quality ingredients
Daily care for soft, fragrant skin
The VERVEINE DE PROVENCE shower gel from Cogérie gently cleanses and preserves your skin's natural moisture. Its sulfate-free and paraben-free formula is specially designed to respect the most sensitive skin. After each use, your skin is soft, fresh and delicately scented.
A Provençal parenthesis for a soothing shower
Let yourself be carried away by the fresh and invigorating scent of verbena, which evokes the landscapes of Provence and offers you a moment of relaxation in the shower. This treatment brings you a feeling of well-being and freshness, perfect for recharging your batteries.
How to use our VERVEINE DE PROVENCE shower gel?
Apply a dab of VERVEINE DE PROVENCE shower gel to your wet skin, lather by massaging gently, then rinse thoroughly with clear water.
Also discover our range of products with fruity and floral scents to vary the pleasures and take care of your skin on a daily basis.
VERBENA OF PROVENCE Shower Gel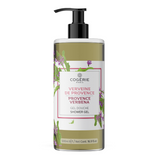 Avis à propos du produit
Voir l'attestation
Maeva B.

Publié le 11/10/2022 à 12:38.

(Date de commande : 03/10/2022)

4
DELIVERY ESTIMATE
Shipping

Your item will be shipped 24 hours after you confirm your order.
Delivery

Estimated between 3 and 7 days

POST partner
WHY BUY FROM US ?
You have 5 good reasons to buy from us:
We have chosen to entrust the management of our online payments to Stripe & Paypal thanks to their services 100% Secure.

For any question relating to your order, our Customer Service will answer you within 24 hours. Simply contact us via our email info@cogerieshop.com .

We attach great importance to our customers' feedback and satisfaction.

Your order will be delivered for free to your home from 59 EUR of purchase and will be shipped in 24H/48H!

French brand, 100% of Cogérie products are designed in France to guarantee the best quality