PURITY GLOW Face Cleansing Foam
PURITY GLOW Face Cleansing Foam
(4 avis)
This light and delicate foam helps to gently cleanse and purify the face.
Its airy structure with excellent foaming power helps eliminate impurities and make-up.
Perfectly cleansed, fresh and soft, the skin is ready to receive anti-aging treatments.
It is also ideal to combine this product with Intense Hydration Day Cream and Intense Recovery Night Cream
Tips for use:
Apply a large dollop of foam to the face: Massage gently. Rinse with water.
THE MAIN ASSETS:
- Moringa extract
- Aloe Vera
- Excerpt from Yacon
- Panthenol
- Damascena Rose Water
- Yogurt powder
- Lactobacillus Probiotic
150ml
PURITY GLOW Face Cleansing Foam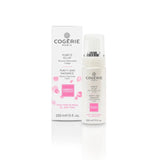 Avis à propos du produit
Voir l'attestation
Julie P.

Publié le 16/10/2022 à 17:54.

(Date de commande : 11/10/2022)

4

Laure B.

Publié le 03/10/2022 à 14:48.

(Date de commande : 29/09/2022)

Produit au top, une peau super douce après utilisation

5

Véronique S.

Publié le 18/09/2022 à 17:14.

(Date de commande : 13/09/2022)

Très agréable sur la peau. Rends la peau douce

5

Juliette G.

Publié le 07/09/2022 à 12:34.

(Date de commande : 02/09/2022)

Superbe, laisse la peau douce. J'aime bien l'odeur.

5
DELIVERY ESTIMATE
Shipping

Your item will be shipped 24 hours after you confirm your order.
Delivery

Estimated between 3 and 7 days

POST partner
WHY BUY FROM US ?
You have 5 good reasons to buy from us:
We have chosen to entrust the management of our online payments to Stripe & Paypal thanks to their services 100% Secure.

For any question relating to your order, our Customer Service will answer you within 24 hours. Simply contact us via our email info@cogerieshop.com .

We attach great importance to our customers' feedback and satisfaction.

Your order will be delivered for free to your home from 59 EUR of purchase and will be shipped in 24H/48H!

French brand, 100% of Cogérie products are designed in France to guarantee the best quality