COLLAGEN CONCENTRATE Anti-Aging Serum
COLLAGEN CONCENTRATE Anti-Aging Serum
(2 avis)
Exceptional serum enriched with collagen which constitutes a real concentrate of anti-aging beauty.
Collagen is the main constituent protein of connective tissue in the skin.
Native collagen molecules are known and used for their moisturizing and protective properties for younger, healthier looking skin.

Collagen is combined in this treatment with the strength of probiotics and rose extracts.
It is ideal to combine this product with the Face Cleansing Foam Purity Radiance or the Morning Dew Face Lotion
Advice for use:
Apply the serum every morning and/or evening to the face and neck, thoroughly cleansed with cleansing and toning products.

THE MAIN ASSETS:
Collagen
Hydrogenated Castor Oil
Damascena Rose Water
Yoghurt powder

Size: 30ml

COLLAGEN CONCENTRATE Anti-Aging Serum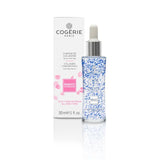 Avis à propos du produit
Voir l'attestation
Chloé T.

Publié le 02/10/2022 à 16:47.

(Date de commande : 26/09/2022)

Fan fan fan ! Ma peau dit merci !

5

Hannah M.

Publié le 18/09/2022 à 14:54.

(Date de commande : 12/09/2022)

Très bon soin. Agréable à appliquer

5
DELIVERY ESTIMATE
Shipping

Your item will be shipped 24 hours after you confirm your order.
Delivery

Estimated between 3 and 7 days

POST partner
WHY BUY FROM US ?
You have 5 good reasons to buy from us:
We have chosen to entrust the management of our online payments to Stripe & Paypal thanks to their services 100% Secure.

For any question relating to your order, our Customer Service will answer you within 24 hours. Simply contact us via our email info@cogerieshop.com .

We attach great importance to our customers' feedback and satisfaction.

Your order will be delivered for free to your home from 59 EUR of purchase and will be shipped in 24H/48H!

French brand, 100% of Cogérie products are designed in France to guarantee the best quality