SPARKLING LEMON Shower Gel
SPARKLING LEMON Shower Gel
(2 avis)
Discover the CITRON PETILLANT Shower Gel by Cogérie, a revitalizing and refreshing experience for your skin. Formulated with carefully selected natural ingredients, this shower gel offers a feeling of sparkling freshness with each use.
The essence of lemon brings an invigorating note. Its soft and creamy texture transforms into a light and delicate foam that gently cleanses without drying out the skin. The SPARKLING LEMON Shower Gel leaves your skin soft, supple and delicately scented.
Suitable for all skin types and can be used daily. For a full sensory experience, combine this shower gel with Cogérie's other natural and innovative skin care products.
SPARKLING LEMON Shower Gel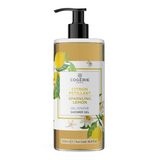 Avis à propos du produit
Voir l'attestation
Jeanne K.

Publié le 14/10/2022 à 12:24.

(Date de commande : 02/10/2022)

5

Lana L.

Publié le 16/09/2022 à 16:51.

(Date de commande : 10/09/2022)

l'odeur reste sur la peau des heures après

5
DELIVERY ESTIMATE
Shipping

Your item will be shipped 24 hours after you confirm your order.
Delivery

Estimated between 3 and 7 days

POST partner
WHY BUY FROM US ?
You have 5 good reasons to buy from us:
We have chosen to entrust the management of our online payments to Stripe & Paypal thanks to their services 100% Secure.

For any question relating to your order, our Customer Service will answer you within 24 hours. Simply contact us via our email info@cogerieshop.com .

We attach great importance to our customers' feedback and satisfaction.

Your order will be delivered for free to your home from 59 EUR of purchase and will be shipped in 24H/48H!

French brand, 100% of Cogérie products are designed in France to guarantee the best quality